9/27/2022

Hello Dragons! For those of you who haven't seen the latest video it's right above if you want to check out a pretty sick mod featuring the Dodge Challenger Hellcat and I encourage you to do so cause you won't be let down with this mod. Onto the reason for this post, so.. it's been a while for hurricanes to be an issue and the time has come even if I or any of you aren't ready for it yet. That being said I'm going to try my hardest to get a video recorded and edited before it strikes and strips me of power for days and I hope not weeks... I wanted to get this out just incase you guys see me disappear for unknown reasons (however if cell service is available I'll post updates on YouTube for you guys.) Don't worry though, I'll be back when I have power! I'll play catch up on the videos I have planned as well.




There is no telling how bad the Hurricane will be at this time as the latest update is; it could be a Cat 3 when it strikes, but could turn into a Cat 1 post strike into Florida. To those of you effected including cuba, I hope you stay safe as I will certainly try to do myself along with my family and I hope to catch you guys in the next mod showcase sooner than later! Again, as long as the cane gives me some time before it slaps me right out of the state of which I reside.. There will be a Mod Showcase this Friday! Thanks for all of your continued support with your generous Subscribes and Likes, be safe! Goodbye for now..

8/10/2022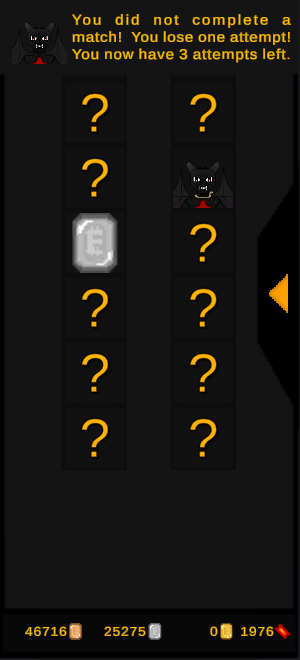 (EmberMatch is Here!)
Hello Dragons!
I've been working hard to get this thing ready to go and it is now done! EmberMatch (Shown in the Image) is now ready to play on the community website where you are challenged to make
three
matches to win before you run out of chances! Every win is now recorded to a Most Winning High Score system I implemented after testing (which came from Dragon Seize, my previous game) as well as the other back end systems needed for it to work properly. The game is randomly generated so don't expect to see the same game every time you play. Also, you earn more if the game generates a harder game (if you win of course

.)
Although this game is fully functioning with animations included, there is still additional work to be done on it. This only includes sounds and the hint system. These will be added as time continues on, but I wanted to just get it working and out the door. The hint system is an optional system and it is not something you need at the moment. The hint system will function just like Dragon Seize where you will spend

Ember Silver Coins to get a quick way out of not finding a match. The amount will be 1

Ember Silver Coin per Hint, but keep in mind you are only given so many

Ember Silver Coins per win, so it will be possible to spend over you earning. This is why it is optional and is not needed as you can win the game without it.
You will need to have
Ember Tickets to play, but those are earned for free daily when you logon or visit the My Account page. Ranked users will get additional
Ember Tickets per day along with other exclusive bonuses! For those of you who are Ranked Up, thank you for the support as it enables to me the funds to keep making games and content for you guys! You can also get more Ember Tickets with spending the

Ember Silver Coins you saved up in a big bundle pack or maybe something even better in the Coin Shop! More will be added to the coin shop as time moves forward and a new Gold Coin Shop will make an appearance later as well.
I will be finishing up the game within the next month or so with the sounds and hint system as I want to test it fully before I throw it out to release. I will then be moving onto the next game there after

. Will I be adding these to mobile was a frequently asked question; the answer to that is Yes, but I do not have the funds for that as of right now. You can play these games only through the community website for the moment. Making mobile games requires me to have other devices in order to make them available for that device and I don't have them at this time. I may get some help from someone to test Android for me and maybe make that a thing sooner than later (as it is possible for me to make that a thing,) IOS is my only a 100% no go for now.
Will I need a community website account to play? Yes, of course you will so all of your coins are saved and what have you. This means you will need to create an account if you haven't already and get verified with the email sent you (be sure to check your spam folder, heh.) I have played the game I don't know how many times and my thoughts are the same with Dragon Seize: I still love playing both of them however I feel I'm better at this game than Dragon Seize, heh I'm not very good with word games. Sometimes us Game Devs make games we are terrible at, but I'm not ashamed to admit it

.
Thanks for reading this if you did and thanks to those of you who choose to play and have fun with the games I've built! I plan to do many more, so if this one doesn't suit you.. just wait, one may later

. That's all I have for you guys at the moment, besides me telling you to expect a new video on Friday

. Goodbye for now...
8/02/2022
Check out these awesome Halo Vehicles! My latest video.
Hello Dragons! Many of you know already that I was out of town for a week, but I've been back and at it again

! I am changing my video upload date to Friday, so you can always expect a new video on or at least Friday of every new week. This doesn't mean that there won't be any extra videos (and I hope to get back to live streams when I can) during the week along with that release. I'll do extra videos when I can as I'm also watching my little one and quiet times for recording don't come easy. Content with Showcases is also limited to the amount of Mods made and yes there are many, however the ones that I cover are more limited and that is why I am making these videos. Not only do these videos bring these mods to your attention, but they also encourage more Modders!
How does this encourage new modders? Well, if someone
(who enjoys the game)
with the skill of modding sees someone else make awesome work then they may consider going at it as well. This could be someone without skill at all with an attempted first project. This means more mods for you and more mods I can bring to your attention (that feature vehicles and gear mostly.) Are you a modder and have made a mod for the game (vehicle or gear related) and I haven't made a video on it yet? Let me know in the comments here or in any video and I'll take a look at it. If it's something I think the community will enjoy, I won't mind making a video for it at all (with my review at the end of course

.) Just be sure to leave a link (url) to your steam mod page or mod website, so I can find it, heh.
Thanks again for being awesome guys, I appreciate all of the support you guys have given me on YouTube with all of the subscribes as the channel is nearing 1,700 subscribers! The more those numbers rise the more I'm likely to do this for years to come as well as increase my video/live stream output with other types of content that fit the channel. So, yeah huge thanks to you guys! That's all I have for you guys, catch you in the next video on Friday! Goodbye for now..

6/17/2022



Hello Dragons! Giving you an update as I haven't done it in a while but I'm going to change that starting now. For those of you who browse this site on Desktop, you'll notice I took down my YouTube Schedule. About that... The reason why I took it down is because It is going to change from that point forward. The reason for it changing is because it is getting harder to make videos because of my little one growing up and ages are getting a little bit rougher to find a quiet time to make a video, heh.




So, with that said I was trying so hard to make videos 2 - 3 times a week and my health started to decline as well as my sleeping habits being slim to none. I have changed that now going with an at least one per week approach and I'm feeling much better and my life style is more lively which will help with how I am in my videos as well

. Does this mean that I will be limiting to one video per week, No not at all. I'll be doing them as I can, so if I find some extra quiet time, then that week might get 2 - 3 videos. I just won't stress myself out on getting 2 - 3 videos every week is all that is changing really.
Once, things clear up as my child gets older though I'll be reverting back to my original schedule. If my family gets into a better living area, then that will help also as we live in a very small apartment and that doesn't help. We are actively looking though, but the house market is terrible right now so it could be a bit. My original schedule was 3 - 5 videos a week (including live streams) for those of you who didn't watch me back when I was able to follow that schedule. I'm really looking forward to get back into that schedule as I miss it, but I can't do much about it at this point, heh.
Story short, you can expect at least 1 video a week, but there could be more than that. I just won't be stressing a 2 - 3 video per week schedule anymore. Oh, if a new vehicle mod pops up that I'm really excited to showcase then that will be rushed to you guys with the next bit of quiet time I get even if I have to do a very late recording, but the new schedule change will help me with not making it a miserable video (mostly me being no different than the zombies walking around in zomboid,) lol.
Thanks for your continued support with my content (subscribes, views and what have you) and I really am glad that you guys are enjoying these mod showcases as I do enjoy making them. I actively search for more mods that I like and want to share with you guys as I think you'll enjoy them if you don't already know about them of course and if you do maybe I'll share something about it that maybe you were not aware of or maybe you'll share something I didn't know about the mod in the comments for others to take note about. I appreciate those comments just as others do, so don't be shy if you know something that I didn't state in the video

.
I'll be doing more of these updates even if it's just to bring you news about a game that I think is worth your time. I can't make videos on them now, so I figure I'll do it here instead

until I can get back to that. It also gives you a reason to keep checking back at this very unused website at the moment, lol. I think that is mostly my fault as I really haven't done a lot of posts. I am still working on back end and new games though, so expect more of that as time goes on

. That's all for now guys, catch you in the next video! Goodbye for now...
5/31/2022
Hello Dragons! Just a quick update for you guys today on what I'll be doing with Mod Showcases that come in the near future. I tried this out a couple of times and it did pretty good as far as views go so I'm going to continue with it and that is; old mods that you may or may not know about. Now, you might probably already notice that I mostly focus on Vehicle mods and that will be majority of my mod showcases as I'm a huge fan of these mods with how much effort is put into them to look as good as they do.
That said, you'll still see some other mods slip in here and there that aren't vehicle mods being accessories or gear. I'm also thinking of slamming a few older mod showcase videos of mine together for those who haven't seen them so they don't have to jump from video to video as there will be a ton of these to come and could be hundreds to thousands (would be pretty frickin' cool if it did reach the thousands) of videos to dive through. Let me know your thoughts on this in the comments below if you like this idea, then maybe it could happen sooner than later

.
I just want to say thanks to all of you who have recently subscribed and those of you who have been subscribers as it is a huge support for the channel and I'm glad you guys are enjoying my content. I do hope to do this for as long as I can for you guys and I can't do that without your support. That's why I can't stop thanking you guys enough and it keeps me making content for those of you who enjoy it or like seeing some of the mods you haven't downloaded yet to feel your Zomboid mod arsenal, heh. I'll also be going back to some of the things I used to do (
when I can)
as said in my very long YouTube post that will go alongside these mod showcases. That's all for now guys, catch you in the next video! Goodbye for now...